mini maxi




print berlin




(cooperation with Galleri Heike Arndt)
07. 11. 2019 – 28. 02. 2020
The MINI MAXI PRINT BERLIN exhibition was initiated 5 years ago by Galleri Heike Arndt Berlin and presents a wide range of artworks made with a multitude of graphic techniques.
This year, for the first time, we are bringing you a special edition of the exhibition – a collaboration between Galleri Heike Arndt Berlin and Galerie Kuchling. Henry Stöcker has been invited as a special guest artist, his sculptures are featured in both galleries. All audiences can find something personally captivating within this vast range of artistic expression.
---
Eduard Bigas & Semaan Khawam

Berlin Melting
18.01. – 29.02.2020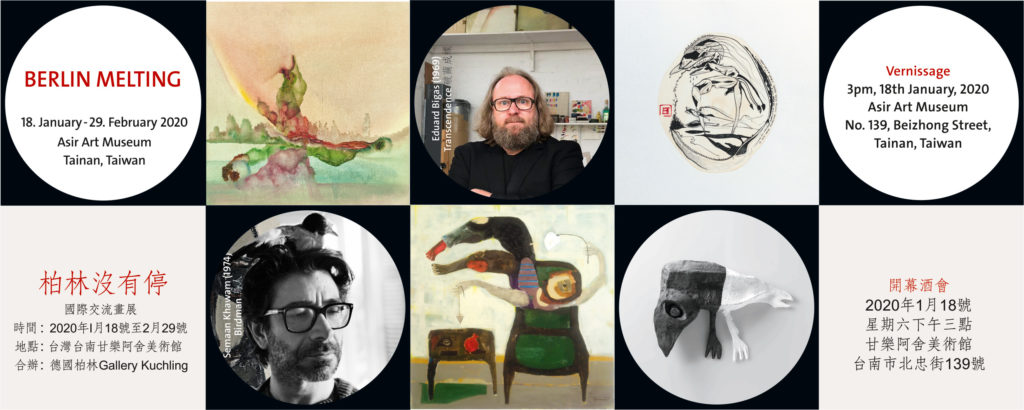 at Asir Art Museum, Tainan, Taiwan
"Berlin is the melting pot of the artistic world", Mr. Kuchling says. After almost three year's of discussions, planning and selections, Galerie Kuchling, together with Asir Art Museum, present BERLIN MELTING with its hand picked two artists – Eduard Bigas & Semaan Khawam in Taiwan.
More information at berlin-melting.org
---
Robert Rudigier
Ich setzte die Sonne oben links
13.03. – 03.05.2020
Galerie Kuchling proudly presents the first solo show of Robert Rudigier. His assemblages, derived from collected book covers that once served no purpose, now find themselves as the perfect canvas for Rudigier's colour experimentations. With a background in visual- and communication design, in Rudigier's objects, a new function prevails over form providing a space for the material qualities to be on the frontline of attention. Along with the assemblage works, he also studies space and light through abstract architectural paintings. His aesthetic, reminiscent of early abstractionism and DeStijl movements, captures thus the very essence of Berlin. 
---