DIE REIFE
DER FRÜCHTE
DIE TATEN
DIE FOLGEN
08th Dezember 2023 – 02th February 2024
Vernissage: 08th 12. 6-10 pm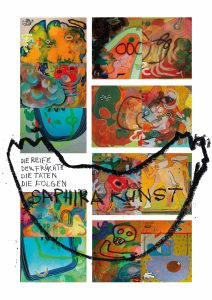 Poster design by Saphira Kunst, 2023.
"The interplay of different colors, structures and forms, which create the greatest possible tension in their effects and always explain new contexts to the eye, is the appeal of painting."
– Saphira Kunst –
We are pleased to present the exhibition of
"DIE REIFE DER FRÜCHTE DIE TATEN DIE FOLGEN"
and cordially invite you to the
Vernissage on December 08th 6-9pm

.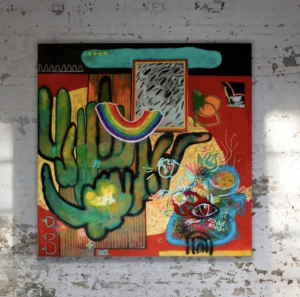 Saphira Kunst, "gone" 150cm x 150cm.
Informations about the artist
Saphira Kunst, also known under the pseudonym Sela Loex, was born, raised and still lives in Berlin-Kreuzberg and specializes in expressive, colorful watercolor crayon and pastel drawings. She completed her first training as a design assistant specializing in stage painting and monument conservation.
Among other things, she worked at the Theater an der Parkaue in Lichtenberg and supervised the stage play "Der Fliegende Holländer" as a set painter at the Deutsche Oper. She completed her second training as a graphic designer at the School of Fine Arts and Design in Berlin in 2013, where she specialized in illustration, digital art and comic and animated film drawing.
Saphira Kunst not only made a name for herself with her first book "Die Kunst der Imagination – Loex und die fremde Welt", but also collaborated with other artists on projects. For example, she used the fire walls in Oppelner Straße and Mariannenstraße in Berlin as a medium for her art.
In 2013, she took part in the group exhibition "IMAGO NATION" with the artist group "Urban Clash" and subsequently exhibited at the "Berlin Graphic Days" #3. In 2014, she presented her works as an autonomous artist at the "Berlin Graphic Days" #5 at the Urban Spree Gallery. She had her first solo exhibition with "CONTENANCEN" at PharoDercks in Berlin in 2016.
The following summer, her work-show "Mondsucht, Eitelkeit und andere Vertraute" was also exhibited at the PharoDercks Galerie.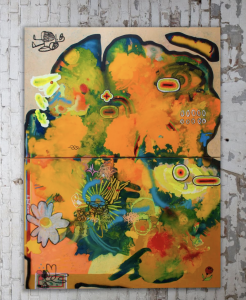 Saphira Kunst, "Fish & bad choices",2020, 200 cm x 150 cm.
A comment
The techniques and materials that Saphira Kunst uses for her works are expressive, oversized and exude a desirable love of intricate detail.
Among others, she mainly works with watercolor and wax crayons, pastels, charcoal and acrylic paint on canvas.
Looking at her works, one is overcome by the feeling of a harmonious presentation, paired with whimsical motifs and an overwhelming blaze of color. Her works of art present themselves expressively to the viewer and reinvent themselves with every blink of the eye. Dream worlds are created and confusing and fantastic curiosities intermingle in the most diverse facets. Facets that offer the viewer the opportunity to develop their own perspectives and interpretations of what they see. Once you give the art its space, a peaceful symbiosis emerges. A symbiosis of one's own perception, the imposing colors and the expressive motifs that Saphira so lovingly depicts in her works of art.
With her works, Saphira Kunst not only opens up new artistic paths and worlds, but also challenges art lovers not just to take a passing glance at her art, but to really open their eyes and question it.
Comment by Josephine Müller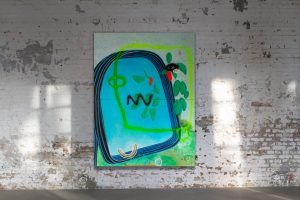 Saphira Kunst, "cry together" 2020/2021 200cm x 150cm.