58th Fine Art Auction
10.05. – 02.06.2022
Pre-visit:

10.05. – 19.05.22
Auction:

21.05. – from 1pm
Post-visit:

24.05. – 02.06.22

Kurt Bunge, "Landscape with rainbow", Acrylic and silver foil on hard fiber, 1959.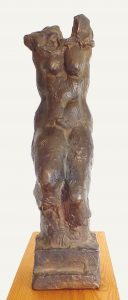 Wieland Förster, "Little Nike", bronze, 1993.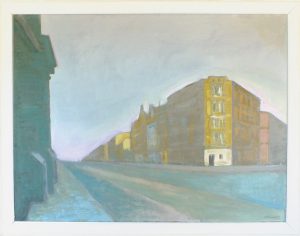 Otto Möhwald, "Street in Halle", Oil paint on canvas, 1991.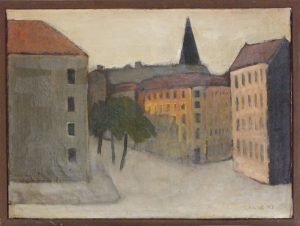 Hans-Otto Schmidt, "At the Prenzlauer Berg", Oil paint on canvas, 1993.
Please note that different opening hours apply to this exhibition:
TUES, THURS, FR: 1-7pm, SA: 11am-3pm
Dear art lovers,
The 58th auction of the East German Art Auctions will take place on May 21, 2022.
After the great success of our fall auction, we hope for your active interest also in spring. We invite you to contribute to the success of our upcoming auction also through your participation.
We will be happy to advise you in our offices at Kunsthaus Mehrow or in our branch at Galerie Kuchling in Berlin. Of course, we will also examine your collection or individual pieces on your premises. Appraisal and consultation remain of course free of charge for you.
Of course, it is our wish to be able to hold this event again with a hall audience. Of course we will keep you informed about the current status.
Telephone bids will be accepted for all lot numbers, without limit restriction.
On our partner portal lot-tissimo you can follow our auction with picture and sound and of course also bid live.
The acceptance of written bids by e-mail, mail or fax remains unchanged.
If you have individual questions about the condition of individual objects, please do not hesitate to contact us.
As usual, we will send our auction catalog to our customers.
Additionally, it will be published on our homepage ostdeutsche-kunstauktionen.net and on our partner portal lot-tissimo.
Yours sincerely
Raik Hellwich and your gallery Kuchling
Entering the premises only possible with a medical or FFP2 mask.
Thank you for your understanding!