"ECHOLOT PAZIFIK"
September 14 – October 28, 2022
Finissage Oktober 28 7-9 pm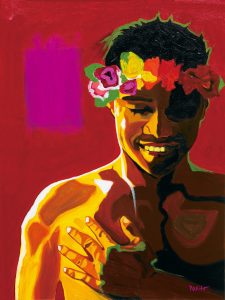 ---
In the exhibition

"ECHOLOT PAZIFIK"

works inspired by the indigenous culture of Taiwan are on display. The emotional and spiritual representation of a Taiwanese artist sharing the rich and great culture of Taiwan.

We look forward to your visit!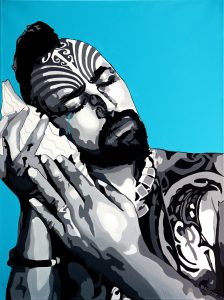 ---
Yosifu Kacaw

was born in the village of Matailing – in Hualian County, Taiwan, and belongs to the Amis tribe, an indigenous people in the east of the island. Today the artist lives and works mainly in Edinburgh, Scotland. He is one of the few artists who represents Taiwan's indigenous culture worldwide and combines Western and Asian styles in his art. 
"I am always changing – sometimes by traveling I get inspiration or by some other people stories, or by my own environment – which can sometimes make me happy, sometimes angry and sometimes sad – I can always be influenced by people and particularly nature and this makes my colours alive. Always follow your true feelings and you will find the right colours to create."
In this way, he brings international audience closer to his hometown on Taiwan's east coast through color, technique and form. His art also draws attention to the precarious situation of the indigenous people of his home island.
"Stories, and in particular my own indigenous experiences in Taiwan help me transform these experiences into art – become beautiful and powerful weapons to help a little voice send a strong message. This is how I use my art to comment against the government or to highlight some unfair issue – and to tell the truth. And to be able to help people to more understand the other – and to understand and appreciate differences between people."
The extraordinary and individual style of Yosifu, formed by his austronesian roots, unfolds through a naive form of image design and the intense colorfulness. The artist's emotional and spiritual connection to his cultural tradition is shown in his pictorial motifs. Yosifu has made his mission to pass on his cultural heritage, to stand up for his homeland and society.
"I hope that through my indigenous series, people will want to learn more about Taiwan's indigenous culture and people's attitudes will change to break down stereotypes and promote equality and understanding between people. Art is a wonderful thing that I want to share. Art can come into our lives and life can be artistic. Art can change people's lives and make them happy. And I also hope that through my colors and art: people can receive love, encouragement and inspiration from me. It's not just about beauty, it's about the feeling of the soul – that's what makes art so valuable."
Currently, Yosifu is exhibiting his paintings in Washington DC until March 2023, and will film a guest appearance on a flower installation art competition on HBO and complete installation art for the Taiwanese government in Taitung National Park, among other projects.