Hello friends of Galerie Kuchling!
We are delighted to present the solo exhibition Five Elements : Creation of Earth (29th March – 3rd May 2019) from the Taiwanese artist Ying-Tung Tseng (*1953).

In summer 2018, we already delivered an insight into the multifaceted oeuvre of the artist with the presentation of the week-long pop-up exhibition Five Elements. With the new show Creation of Earth we are now turning the page for the next exciting chapter with Tseng's fresh large-sized works.

Ying-Tung Tseng's serial works are influenced by Taoism and by the artist's affection for his homeland Taiwan. His sculptural paintings have a rough, relief-like surface which reminds one of stone or raw metal. As a child, Ying-Tung Tseng used to wander through the streets of his home town Tainan where he let his hands slide over the old walls of the forts – this peculiar childhood memory has remained in the artist's work until today. On this three-dimensional surface he paints with strong, earthy colours and, at the same time, accentuates carefully elaborated details, which often show symbols resembling nature. The results are poetic and highly concentrated three-dimensional paintings which carry a mysterious aura and seem to rest entirely in themselves. The artworks pass their inner serenity and harmony on to the viewer.
Ying-Tung Tseng graduated in Fine Arts at the National Taiwan Normal University (NTNU) and received his Master of Fine Art from the New York University. Today he is also an associate professor for architecture and interior design at the Shu-Te University. In 2015, the construction of his own art center, the Asir Art Musum in Tainan, were completed. Besides Tseng's artworks the Asir Art Museum exhibits numerous national and international artists and supports the international art exchange with Taiwan. Ying-Tung Tseng received various awards for his artworks which are, amongst others, part of the collection of the Liaoning Museum of Fine Arts.
» learn more about the exhibition
---
SAVE THE DATES
Finissage with Ying-Tung Tseng on 26th April from 7-10pm

o

0

O

Opening hours at Easter: Good Friday closed / Holy Saturday 1-6pm/ Easter Sunday & Monday closed

o

0

O
---
Interview with Ying-Tung Tseng
video: rro.berlin
---
Open Call MiniMaxi Prints Berlin 2019 // Applications from 1st March – 1st August 2019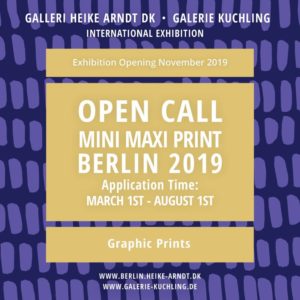 All professional artists who are working with printing techniques are invited to participate in our Open Call Graphic Prints Berlin. This special graphic exhibition was established by Galleri Heike Arndt DK as Mini Prints Berlin and has been a recurrent event since 2014. This year Galerie Kuchling and Galleri Heike Arndt DK will curate and present the exhibition together for the first time.
The collaboration of the two galleries makes it possible not only to extend the amount of works but also the sizes which will be accepted. To give this productive change a name, we decided to redefine the exhibition as MiniMaxi Prints Berlin.
Further information about the application process you can find here: http://berlin.heike-arndt.dk/de – please use only the application form on the website of Galleri Heike Arndt DK.