"WINTER JOURNEY IN THE MOUNTAIN"
December 17th 2022 – February 10th 2023

Dear friends of the gallery,
We wish you and your loved ones a healthy and happy 2023!
Your team of Galerie Kuchling <3
---
Information about the artist and the current exhibition
Ying-Tung Tseng (*1953 Tainan City) graduated from the National Taiwan Normal University with a degree in art and received his Master of Fine Arts from New York University.
He is also a professor of architecture and interior design at Shu-Te University and opened the Asir Art Museum in Tainan City in 2015.
Tseng has received numerous awards for his artwork, some of which include the collection of the Liaoning Museum of Fine Arts. 
Tseng's colorful and harmonious artworks, accented by gold, exude a natural energy, zest for life and a special closeness to nature. "Life" is an internal theme in my works.
In my opinion, there are two main motivations in life: the pursuit of love and material things, like money. I represent my thoughts through different objects, such as seeds, flowers, trees and mountains. Seeds represent the energy to raise the next generation. Inside the pomegranate, a sprout grows. It shows the power of life. In oriental and western culture, pomegranate also has the meaning of prosperity. We can see a correspondence between Eastern and Western cultures in terms of the energy of life."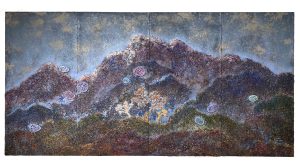 ---
next project / we looking forward for this <3
---
"RAPTURE"
"Through the Eye of The Needle"
(18th  February – 06th April 2023)
Vernissage: 18th February from 7pm
---
Dear friends of fresh art,
for the 27th exhibition we have come up with something very special for you.
It will be dark, dynamic and a little wild.
We are very pleased to present you the exhibition of
"RAPTURE – THROUGH THE EYE OF THE NEEDLE"
to the Vernissage on 18th February 7-10pm
in the gallery for fresh art.
Among other things, animated short films, graphic works and a live-action film will be shown, which can rightly be classified in the category of Film Noir can be classified.
The Vernissage will also feature a LIVE performance by Maksim Didenko and Pavel Semchenko, and we can already say with a fair amount of certainty that it will be a spectacle.
Don't miss it – we are looking forward to your visit <3