Dear Friends of Fresh Art,
We are delighted to present the exhibition Freedom ° Love (15 January – 16 April) with paintings and sculptures from Ying-Tung Tseng (*1953 Tainan) and Semaan Khawam (*1974 Damascus).
"I am not free, so I can't really talk about freedom. I can only talk about the lack of it", says Semaan Khawam, who had to leave his homeland Syria when he was 14 years old. Since then, the artist has been living in Beirut, a city he loves but which, at the same time, demands so much of him, sometimes even too much. Khawam's paintings and sculptures speak of torment and unfreedom, but they also speak of fragile hope. They tell us about the artist's quiet dream to spread his wings and leave all boundaries and borders behind for good.
"A heart without boundary is the highest form of freedom", says Ying-Tung Tseng. Love and freedom are the fundaments and the endpoints of his artistic work: as two intertwined energies they permeate his three-dimensional, colourful paintings. As a result, Tseng's works rest entirely in themselves while passing their inner serenity and harmony on to the viewer. "The colours in my work originate from love. The style in my work (…) is without boundary, which is freedom."
Freedom ° Love invites you to join a fascinating artistic dialogue that explores not only the light and dark facets of freedom and love but also their complex relationship.
Freedom ° Love is a dual city exhibition in cooperation with Asir Art Museum, Tainan (at Asir Art Museum: 5 June – 3 July 2021).
We invite you to watch our introduction video about the exhibition by Prof Dr Shieh Jhy Wey on Youtube.
We look forward to seeing you!
---
Soon: Ostdeutsche Kunstauktionen // 56th Auction of Fine Art
hosted by Galerie Kuchling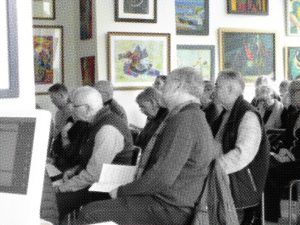 We are delighted to announce that the auction house Ostdeutsche Kunstaktionen will be once more a guest at our gallery from 27 April to 21 May. Come by and get inspired by the works of their current spring exhibition.
Since 1996, Ostdeutschen Kunstaktionen has been holding regular spring and autumn auctions. Their offer mainly comprises works from the long-standing Dresden art, the Berlin and Leipzig scene as well as East German art from the first half of the 20th century.
PREVIEW: 27.04. – 6.05. // Preview auction lots in advance of the auction during the below opening times as well as by appointment.
AUCTION: 8 Mai from 1pm
Post-Auction Sales: 11.05. – 21.05. // View and make offers for so far unsold lots.
If you have any questions about the auctions, the viewings, or would like to arrange a visit, please contact Ostdeutschen Kunstauktionen at info@ostdeutsche-kunstauktionen.de. Further information you can also find here: www.ostdeutsche-kunstauktionen.net
Please note our changed opening hours during the viewings:
Tue, Thu, Fri: 1 – 7pm
Sat: 11am – 3pm
The health and safety of our visitors are important to us, this is why we, of course, adhere to the current corona restrictions.
---
Slideshow images: Semaan Khawam & Ying-Tung Tseng, Selected works. 2016-2020 & exhibition views 2021 (photos: A. Bondar) • Please contact the gallery for details.
Portfolio: Semaan Khawam & Ying-Tung Tseng – also available as print version for 10.- € at the gallery.