• Applications from 1st March – 31st July 2019 •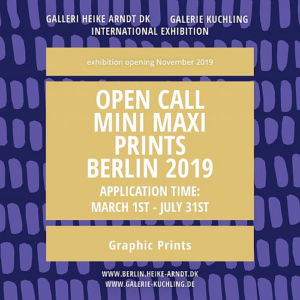 All professional artists who are working with printing techniques are invited to participate in our Open Call Graphic Prints Berlin. This special graphic exhibition was established by Galleri Heike Arndt DK as Mini Prints Berlin and has been a recurrent event since 2014. This year Galerie Kuchling and Galleri Heike Arndt DK will curate and present the exhibition together for the first time.
The collaboration of the two galleries makes it possible not only to extend the amount of works but also the sizes which will be accepted. To give this productive change a name, we decided to redefine the exhibition as MiniMaxi Prints Berlin.
Further information about the application process you can find here: http://berlin.heike-arndt.dk/de – please use only the application form on the website of Galleri Heike Arndt DK.